High Quality Shingle Roofing Services in Denver, CO
Replacing the shingle roofing system at your home or commercial building in Denver is a significant investment. Consult with Gen 3 Roofing Corp. roofing specialists for licensed roofing services and repairs that include superior roofing materials, reliable warranties and qualified expertise.
Available in asphalt that is combined with the latest premium quality materials, asphalt composition shingles are specially coated with ceramic granular coating or fiberglass materials as a more durable roofing alternative to the organic materials used in the past. Long lasting and highly durable, Gen 3 Roofing Corp. offers asphalt roof shingles in a range of categories that are available in several styles and colors and also provide maximum energy savings. Typically installed on pitched roofs, Gen 3 Roofing Corp. offers a range of roof shingle options along with licensed and insured installation.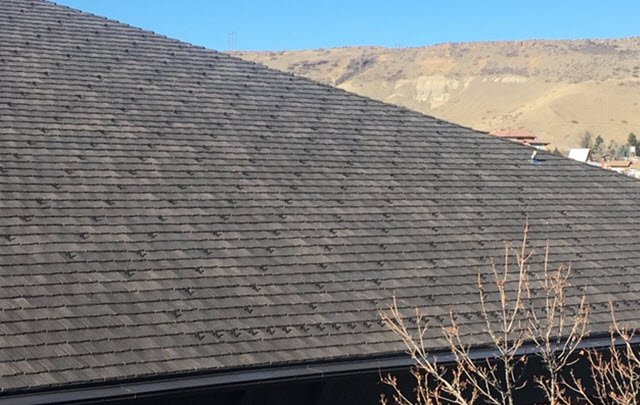 Organic Roof Shingles – Originally composed of recycled cardboard, paper that was combined with wood chips, today's natural material shingles are designed with advanced materials that allow for extra resistance to water infiltration and damage while remaining affordable and easy to install.
Fiberglass Roof Shingles – Made from a fiberglass mat and layered with a durable waterproof coating Gen 3 Roofing Corp. provides fiberglass shingle installations that are lightweight, fire- resistant and a cost-effective roof installation for home or businesses in Denver.
Three Tab Shingles – Affordable but long-lasting, certified Gen 3 Roofing Corp. roofing specialists install the latest streamlined three tab shingles that contain reinforced asphalt with cutout edge design for an enhanced appearance.
Alternative Roof Shingle Types
Ask Gen 3 Roofing Corp. experts about other roof shingles options that include the latest options available in stylish tile shingles, wood shingles and slate shingles, as well as a full range of roofing options and solutions that are completely customized to your Denver property.
Shingle Roofing repair
To avoid premature roof replacement and costly roof repairs, shingle roof leaks should be inspected by Denver roofing professionals. Gen 3 Roofing Corp. provides certified roof inspection and reliable roof repairs to any cracks, holes, or gaps in commercial or residential shingle roof systems as well as professional sealing and evaluation of attics and vents.
The Benefits of Asphalt Shingle Roofing
Asphalt shingle roofs is a versatile roofing option that can adapted to virtually any commercial or residential home or building in Denver.
Extensive Design and Style Options – Gen 3 Roofing Corp. offers asphalt roofing shingles that blend in and enhance any architectural style in a variety of stunning colors that truly boost curb appeal.
Impact and Fire-Resistant – Gen 3 Roofing Corp. asphalt roofing shingles are formulated with a special coating that includes class 4 impact resistance.
Cost-Effective – Offering long-lasting performance and excellent weather resistance, Gen 3 Roofing Corp. installs the best quality asphalt roof shingles to provide exceptional value to your property in Denver.
Contact us today to get your free estimation.