Roof inspections for commercial properties can at times be tough, expensive, and risky. Unlike the older roofs that were basic and simple, most of the new developments have unique and complex designs. But regardless of the shape, complexity, or size, the building owners must keep their roofs safe, and free from damage. New technologies offered by drones make commercial roof inspections easier, safer, faster, and less costly.
Drones can accurately identify defects that the naked eye cannot see. Unfortunately, many commercial building owners have not yet adopted drone-based inspection technologies, due to lack of awareness or knowledge of the many benefits they offer.
Benefits of Using Drones for Roof Inspections
Provides safe roof inspections
A drone roof inspection eliminates most of the risks associated with conventional roof inspection methods. The risks arise due to the nature and design of the buildings. Complex designs, great heights, deteriorated roofs, and structures as well as hard to access areas can pose several risks to the workers, occupants of a building and those people around it.
Collecting data without putting the lives of the workers at risk is one of the major benefits of using the drones to inspect a wide range of commercial properties.
Ability to collect in-depth data
The drones can access almost any part of the building, and collect useful information using its high-quality image, video, and thermal cameras. A drone-based building inspection is faster, more efficient, and accurate and can detect a range of issues including:
leaks
water damage
roof seams
temperature issues
insulation problems
issues with rooftop unit
With the right equipment a drone's technology and accompanying visual and optical cameras can capture any thermal variation or energy delta differential down to 1/10th of a single degree Fahrenheit.
By pinpointing the exact location of any damage and analyzing the findings in real time you can quickly and efficiently make necessary repairs.
In addition, a drone can be used to record invaluable before and after images once repairs are completed. Drones have inbuilt GPS systems that make it possible to take shots of a location from the exact location at every visit, regardless of how much time has lapsed.  The data obtained from a drone is invaluable when it comes to submitting an insurance claim.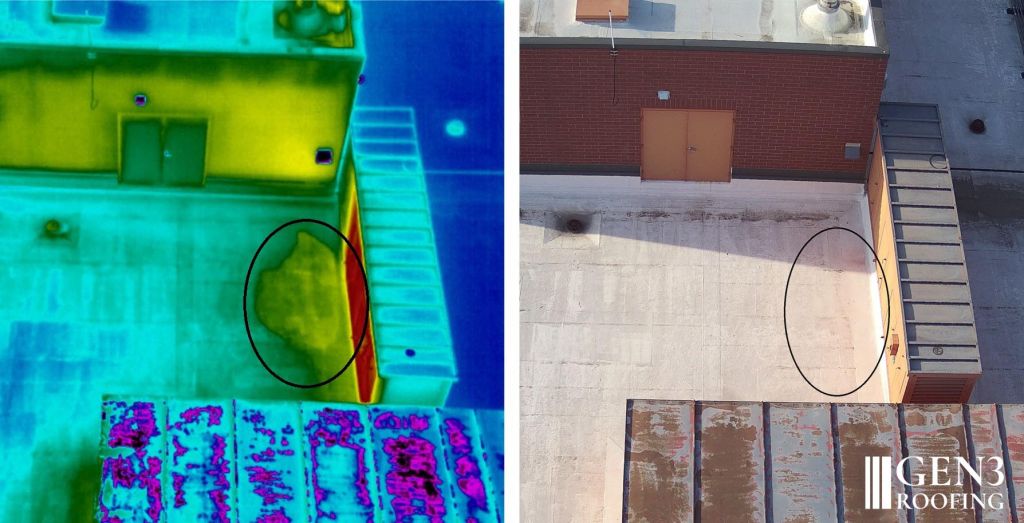 Prolongs the life of your roof
Events such as changes in seasons and temperatures can cause damages and can be identified with drone roof inspections.
With scheduled drone inspections of your commercial roof, any potential damages can be discovered before they lead to expensive repair bills or interior damages.
Commercial and industrial properties require the highest level of precision. Our professionally trained Level 2 Thermographer uses only the latest in top-of-the-industry aerial photography technology, capable of catching even the finest details from very high elevations. If you would like to learn more about a drone inspection on your commercial property give Gen 3 Roofing a call at 303-923-5039.  Gen 3 Roofing has offices in Colorado and Arizona to serve all of your commercial roofing needs.